Mid Central Medical
Quality Medical Equipment for Operating Rooms
Since the early 1990's, Mid Central Medical has evolved into a leading manufacturer of medical equipment for operating rooms in hospitals and surgery centers throughout United States.
COVID-19 Related Products & Support
The healthcare industry in America and across the globe is experiencing unprecedented conditions. No one really knows what to prepare for, nor what is ahead. Global supply chains are being interrupted by situations beyond anyone's control. As an American manufacturer, Mid Central Medical has been evaluating and inspecting our supply chain to see what we can do to assist and support healthcare professionals. This has led us to create a
page of products
that may meet some of the needs for hospitals that may see a large influx of patients. If you do not find what you are looking for, call us at 888-844-6252 or email
[email protected]
. We are dedicated to supporting you through this difficult time.
For Medical Professionals
We hope you will find our site useful for locating the medical equipment you need for your operating room. Please use our Request a Quote feature to quickly inquire about any number of products. We will connect you with a distributor who can assist you further.
For Medical Equipment Distributors
With our continually improving and expanding online database of medical equipment, we hope you will find it a useful in your communications with medical professionals. If you are not yet a Distributor, contact us today to find out
what we have to offer
.
What Our Customers & Distributors are Saying...
"Excellent people, excellent product. Mid Central has always been reliable and a pleasure to deal with."
"When I sell Mid Central Medical product, I really sell the people and the company. Their values align with our company values."
"The safe descend feature of the mayo stand is very impressive. I can't find it anywhere else."
"It means a lot to me to know I can order from Mid Central and they will ship the product to me or my customer right away."
"The square leg design of their tables is what I like. It is a better design and makes a great table overall."
Improving Life Tip #6 Everyone wants to improve their life.
Read More »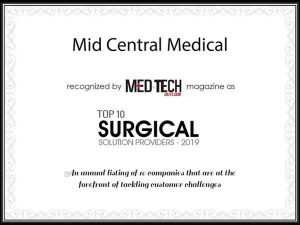 Mid Central Medical has been named to the list of Top 10 Surgical Providers by MedTech Outlook magazine.
Read More »
This short guide below will help you understand what you are using the table for, and what table might suit your needs best.
Read More »